BELEV ECHAD (ONE HEART)
Beyond PR – Creating an Event for a Nonprofit that Achieves Much More than High-Profile Media Coverage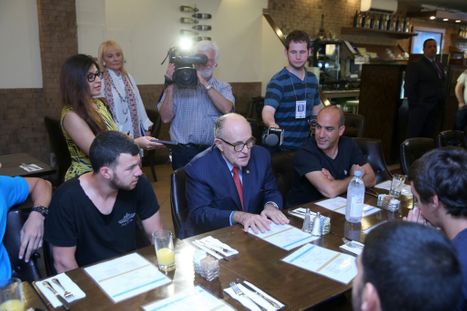 BACKGROUND: Belev Echad, a nonprofit dedicated to supporting and honoring wounded Israeli soldiers, was seeking press coverage for its flagship program which brings injured IDF veterans to New York City for a 10-day tour of gratitude and recognition from the American Jewish community.
CHALLENGES: One Heart was seeking media coverage but the only story the organization had to pitch was an Evening of Recognition for the Israeli soldiers with two conservative pro-Israel journalists from Forbes and Fox lined up as the speakers. The event, planned before AWAKEN PR was hired, was not enough to draw any media attention, even from the speakers' own media outlets — Forbes and Fox. AWAKEN PR was only hired a few weeks before the soldiers' visit and there was no newsworthy angle to attract press coverage.
CAMPAIGN: Rather than focus solely on pitching the media to cover the Evening of Recognition event, a marketing strategy of lining up a pro-Israel politician to meet with the soldiers was recommended by AWAKEN PR to draw media attention. AWAKEN PR succeeded in garnering interest from several political leaders in the New York metropolitan area, but at the client's request set up a breakfast meeting with former New York City Mayor, presidential candidate and personal attorney to President Donald Trump, Rudy Giuliani.
RESULTS:
The breakfast meeting with Giuliani was a huge success for Belev Echad both from marketing and PR perspectives and also provided a huge morale boost for the wounded soldiers.

CBS News, WOR 710 , and several other media outlets and blogs covered the event. Israel's Arutz Sheva/israelnationalnews.com featured a story about the meeting based on a press release issued by AWAKEN PR

Giuliani not only heaped enormous praise and gratitude on the soldiers and acknowledged their enormous sacrifice in fighting terrorism for both Israel and the world; he texted a photo he took with the soldiers to Israeli Prime Minister Bibi Netanyahu and urged him to meet with the soldiers in Israel

The head of Belev Echad called it the best event of the entire trip

Belev Echad was able to utilize the photos and video of the meeting with Giuliani on its website and in its marketing materials